The Bishop Concept has launched two new items in the suite of services and products sure to empower, enlighten and energize you both physically and mentally.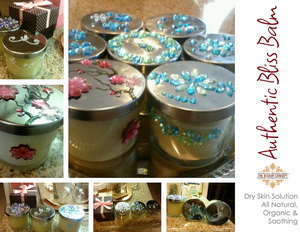 Authentic Bliss Balm™ – It's hot off the shelf from my hands to yours, purely organic, simple ingredients like vitamin e, shea butter, bees wax, coconut oil, almond oil and essential oils that are soothing, fresh and clean smelling, all encased in a lovely decorated beaded glass jar that can easily sit on your nightstand, vanity or bathroom shelf.
You may have a friend or loved one who is in need of a pick me up who also has sensitive dry skin.
Here's what people are saying about it: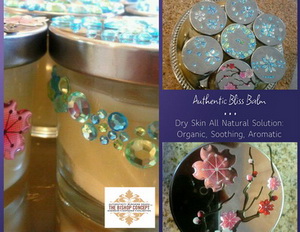 This Authentic Bliss Balm works wonders. Not only does it smell amazing, but it healed my dry hands and feet. Being a woman who works with clay and pottery daily, this balm really healed my dry hands leaving them soft to the touch. It has replaced the lotions I'd normally purchase at the stores, not to mention the smell is absolutely luxurious. This has become my favorite product to use daily.
– Talia G.
I LOVE the balm! I love the texture and the smell. It's definitely high Quality. Next you need a candle and a shower gel to make it a full line. I have been wearing every morning and night…I'm going to run out soon!
– Cheryl B.
Authentic Life Coaching is a unique service designed to address specific personal projects, business successes, general conditions and transitions in the client's personal life, relationships or profession by examining what is going on right now, discovering what your obstacles or challenges might be, and choosing a course of action to make your life be what you want it to be. Contact us today and arrange for your 30 minute complimentary consultation!
Lisa Bishop
President & CEO
The Bishop Concept